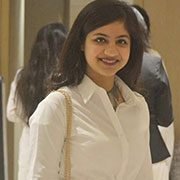 Ms Harshil Madaan Bhatia has always desired to be a teacher or a trainer of the English language. Her primary focus has always been on the students and their individual needs. She incorporates real-life examples in her classes to make them lively and to make students comprehend things for a long time. Thus, she endeavours to deliver her best in the classes.
Ms Harshil has a teaching experience of nearly 4 years as an English language coach. Apart from that, she has also played the job roles of a counsellor.
Professionally, she is working as an IELTS trainer at VOE, which has provided her with a platform to hone her teaching skills more and she is driven by the motivation to provide the utmost quality of education to the students, thus making this platform attain the heights in the overall context.