Considered a top five University in Canada, and in the top 100 globally, the school combines excellent instruction, state-of-the-art facilities, well-funded programs, and world-renowned research.
The University of Alberta is consistently ranked among the world's most international universities by Times Higher Education. It has over 400 teaching and research agreements with governments and partner institutions in nearly 50 countries.
The UofA offers hands-on research which means that you could meet your mentor and learn from award-winning professors while getting involved in research as early as your first year of study. Moreover, it attracts over $500 million annually in research funding from federal and provincial government, industry, and other sources. The researchers at the U of A facilitate across the entire spectrum – from discovery to innovation, to technology development in areas such as health and life sciences, education, energy, business, computer science, agriculture, AI, engineering and many more.
UAlberta also has over 100 centres and institutes many of which have direct links to industry. By building work experience into your degrees, UofA graduates are some of the most employable in the world. All of them direct-entry have some form of co-op, practicum or internship.
The university receives over $32 million in funding which is available to undergraduates in the form of scholarships, awards, and financial support each year.
Highlights about U Alberta
The University of Alberta is one of Canada's leading universities and is very popular with students from around the world:
The province of Alberta is recognized as having one of the strongest economies and highest living standards in the world. Albertans enjoy higher salaries than in any other province in Canada, as well as world-leading education and healthcare systems. Alberta has a high standard of living, diverse and welcoming communities, stunning landscapes.
Salaries in Alberta vary depending on the employer, hours worked and educational qualifications, as well as experience and responsibilities which the position requires. Alberta wages are among the highest in Canada.
Living in Alberta is affordable. Alberta offers higher incomes and lower cost of living. Families in Alberta typically enjoy a higher family income than other parts of Canada. In a 2020 Canadian income survey, Alberta families earned a median income of $104,000 after tax. This is above the Canadian average of $92,400.
Most people living and working in Alberta get free access to medical clinics or hospitals and most medical services covered under the Alberta Health Care Insurance Plan.
Alberta has 4 distinct seasons, from hot summers to snowy winters and everything in between. Alberta enjoys the highest number of sunny days in Canada with up to 18 hours of daylight in summer and over 312 days of sunshine each year. It is true that it gets cold in the winter, but homes in Alberta are centrally heated so indoors, you remain warm. The geography gives you a 'dry cold' which is easy to manage if you dress warmly for it. With the right clothing and layers, you will be prepared to enjoy all that an Alberta winter has to offer.
Students in Alberta may benefit from low costs of living — there is no provincial sales tax on goods and services — as well as a stunning natural environment comprising mountain ranges, lakes, and prairies.
Students who start their studies in Alberta may be able to broaden their horizons to other schools as well, through the Alberta Transfer Program. This program allows students to undertake studies at one school and then transfer seamlessly to another. This means students may gain admission more easily to some of the most competitive universities in the country for the second or third year of the study program, and also allows for students to obtain multiple degrees.
Below is an approximate estimation of living costs for students in Alberta.
| | | |
| --- | --- | --- |
| Factor | Per month (approx.) | Per year (approx.) |
| Accommodation (shared, off-campus) | $550 | $6,600 |
| Food | $250 | $3,000 |
| Clothing, miscellaneous | $150 | $1,800 |
| Recreation and entertainment | $150 | $1,800 |
| Transportation (Edmonton post-secondary student price) | $89.50 | $1,074 |
| Phone bill | $60 | $720 |
| Internet | $50 | $600 |
| Utilities | $120 | $1,440 |
| Cost of living total | $1,419.50 | $17,034 |
Located in Alberta's capital, Edmonton, UAlberta has close linkages to the municipal, provincial, and federal governments.
Moving to Edmonton is a big decision and it is important to be aware of the weather you should expect. Edmonton has a relatively dry humid continental climate with extreme seasonal temperatures. Although the city experiences milder winters than either Regina or Winnipeg, Edmonton is located at a latitude farther north. It has warm summers and cold winters, with average daily temperatures ranging from −11.7 °C (10.9 °F) in January to 17.5 °C (63.5 °F) in July. However, temperatures can swing up past 30 °C (86 °F) and down below -20 °C (-4 °F) for a couple of days every year. Despite the temperature swings, Edmonton is one of Canada's sunniest cities, receiving 17 hours and 16 minutes of daylight at the summer solstice due to its northerly position.
Summer typically lasts from late June until late August and the humidity is seldom uncomfortably high. Winter lasts from November to March and varies greatly in length and severity. Spring and autumn are both short and highly variable. Thunderstorms occur regularly during the summer months, and although they occasionally do damage, they can be spectacular.
Living in Edmonton is fun-filled, it plays host to several large festivals each year, contributing to its local nickname "The Festival City." Among these festivals is the Edmonton International Fringe Festival, second only to the Edinburgh Fringe Festival in size worldwide and the largest of its kind in North America.
Residents of Edmonton enjoy the highest average household income in Canada with an affordable cost of living. Taxes are lower, and there is no provincial sales tax (PST). On average, Edmontonians have more disposable income than most other Canadians.
The Edmonton Transit System is the city's main public transit agency, operating the Edmonton Light Rail Transit (LRT) line as well as a large fleet of buses. The LRT is expansive, going all the way from the north to the far reaches of the south side. One drawback is that the LRT line only runs north-south, and not east-west.
The Edmonton Transit System incorporates the LRT network that joins major central and downtown areas and a bus system that connects the entire city.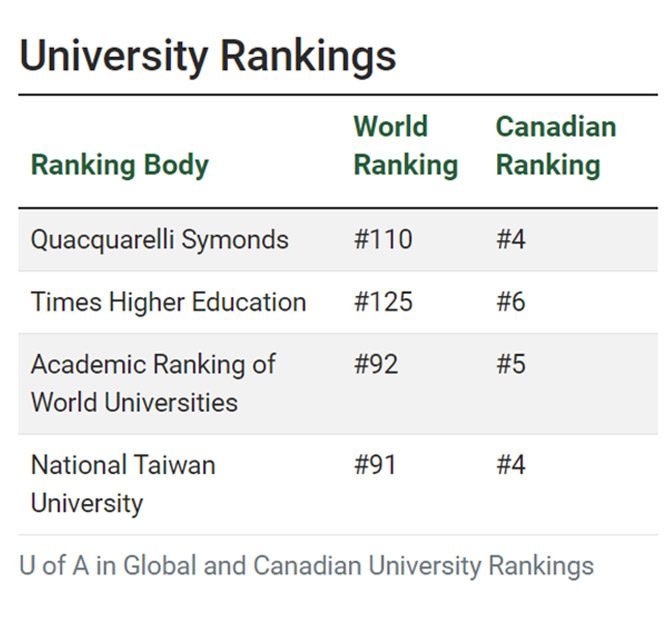 Top 125 in World University Rankings
Top 5 in University Rankings in Canada
Additional Rankings & Profiles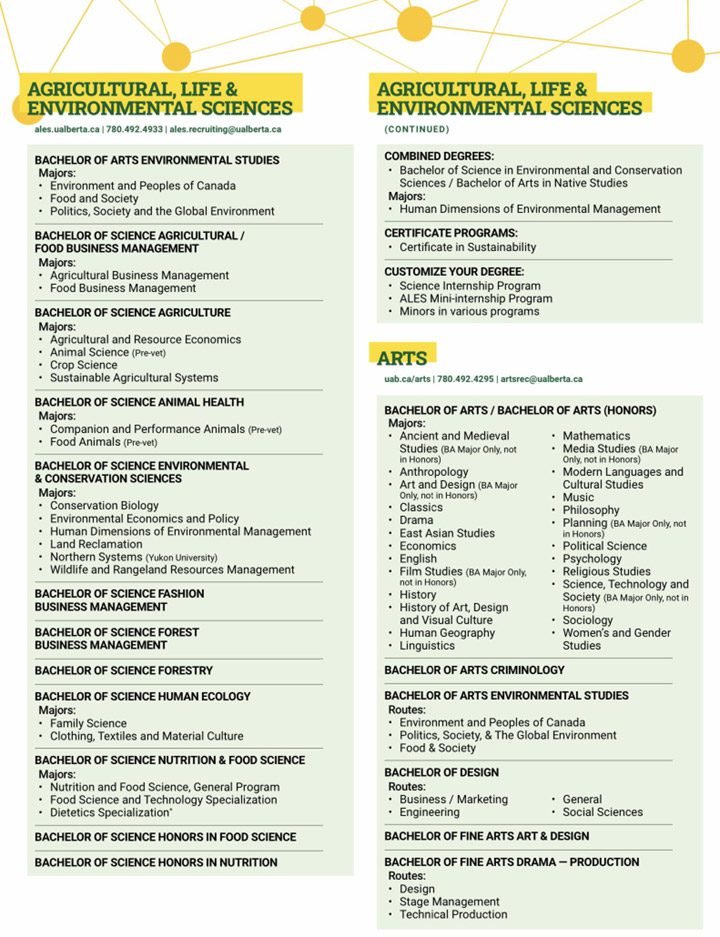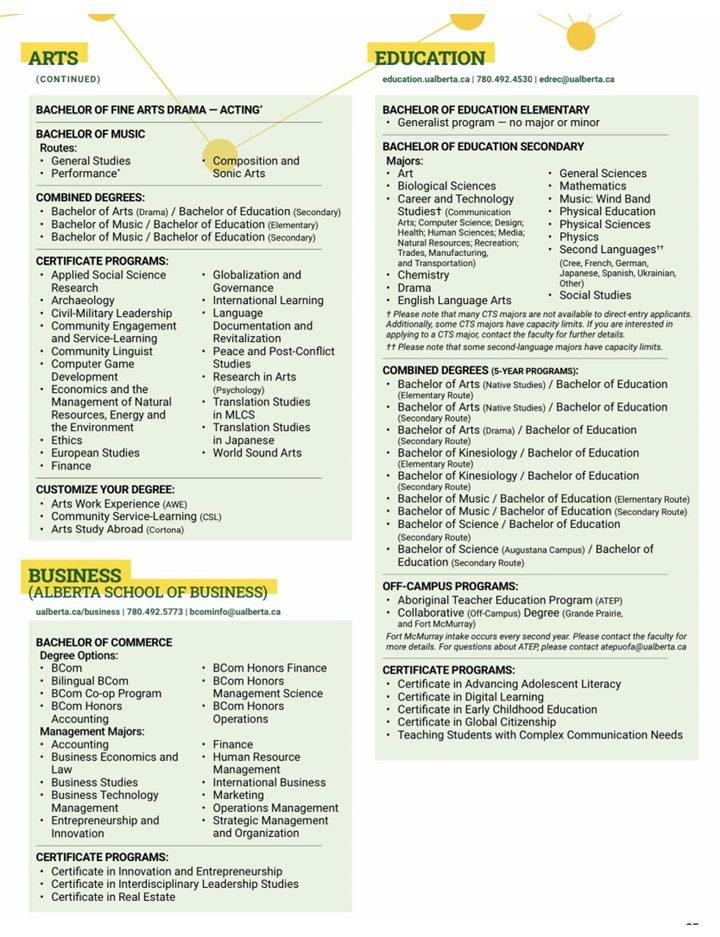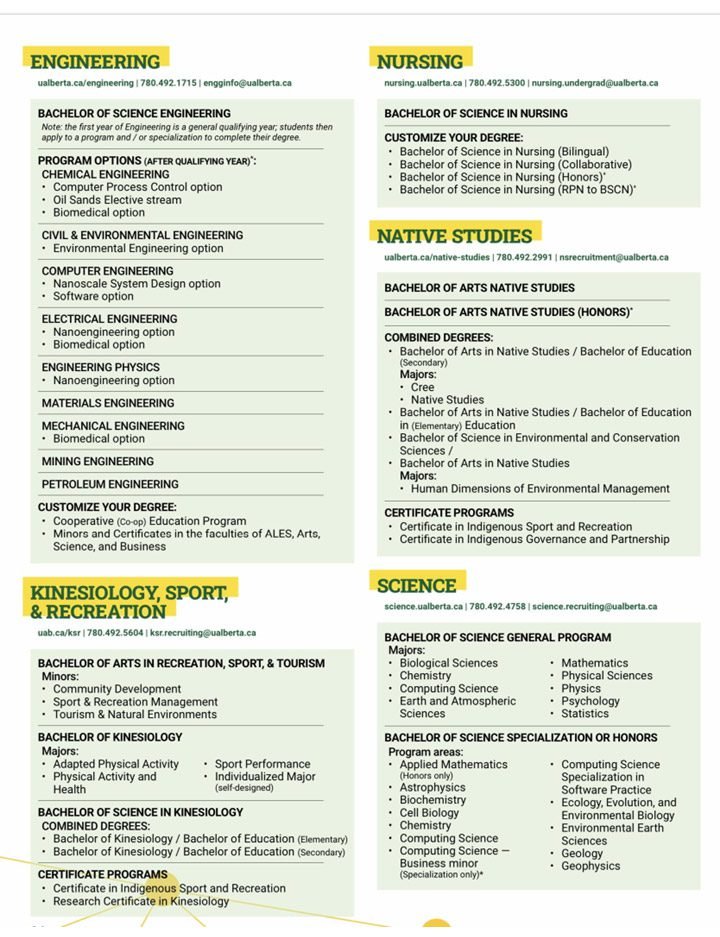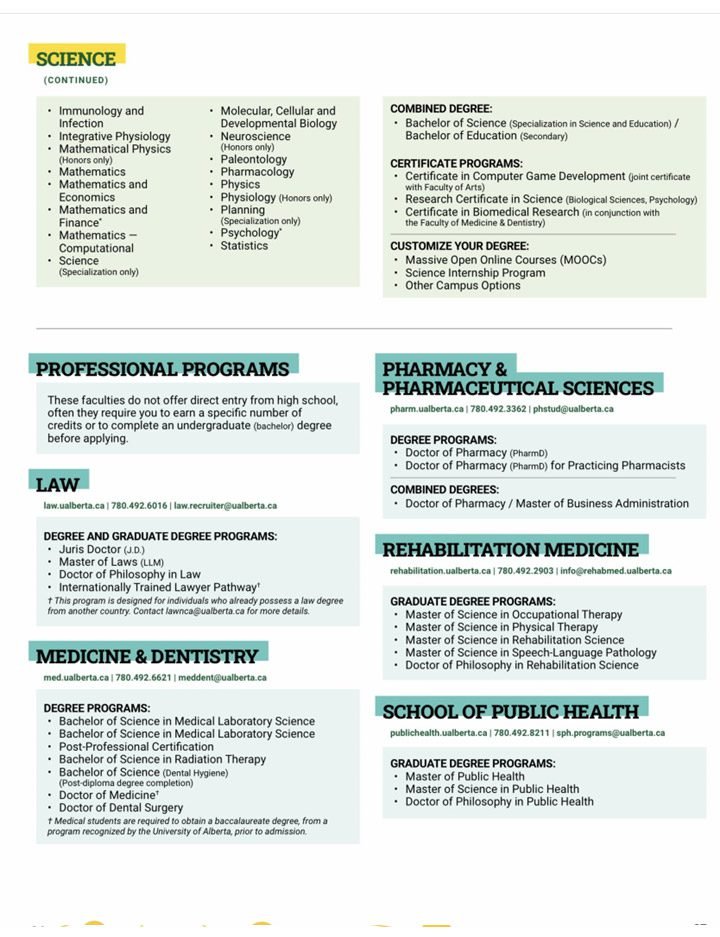 | | |
| --- | --- |
| October 1, 2022 | Opening application date for admission, awards, and residence |
| October 1, 2022 | Opening application date for Spring & Summer 2023 admission. |
| October 15, 2022 | Open House |
| January 11, 2023 | Entrance Award Application Deadline |
| February 13, 2023 | All students can submit new final high school marks in application. |
| February 16, 2023 | Deadline to submit Program Change Request form. |
| March 1, 2023 | Deadline to submit admission application for most programs. |
| March 31, 2023 | Deadline to accept admission offer for Fall 2023 Juris Doctor (Law) program. |
| April 6, 2023 | Class Schedule released in BearTracks for planning purposes. |
| April 30, 2023 | Deadline to self-report final high school marks in application. |
| April 30, 2023* | Deadline for new students to apply to North Campus residences for a guaranteed spot. Applications may still be considered after this date. |
| Apr-23 | Registration for Courses for Fall 2023 opens |
| March & April 2023 | Attend a Registration 101 Workshop |
| May 1, 2023 | Deadline to accept admission offers made before April 1.  However, admission evaluations are done on a rolling basis. If you receive an offer after April 1, view this page for deadline information. Your offer acceptance deadline can be found on your Launchpad. |
| June 15, 2023 | Deadline for post-secondary applicants to submit final transcripts and other requirements. |
| Jul-23 | Attend a Student Loan Workshop |
| August 1, 2023 | Deadline to submit outstanding documents for high school students. For Alberta applicants, high school transcripts are automatically obtained on your behalf and are typically received by the Registrar's Office in early August. |
| Sep-23 | Classes begin! |
1. Admission-based scholarships - no application required!
You could be starting with scholarships you don't even have to apply for! You will be evaluated for these scholarships when you apply for admission. Your eligibility will be based on your high school admission average at the time of your admission offer. We'll assess you for a match to the following and many more. If you are eligible for an admission-based scholarship we will contact you directly!
2. Application-based scholarships
There are even more scholarships and awards for all types of students. Not sure what scholarships you're eligible for? No problem! Fill out our single scholarship application and, based on your background, experiences, academics, and interests, we'll assess you for a match to the following and many more. You must apply to an undergraduate degree program before you can apply for any entrance scholarships. The deadline for application-based scholarships is January 12, 2022. Offers will be made starting in early Winter 2022.
Colleges our Students have been Admitted to:


















University
Faculty
Program
Student
Letter
Year 2022
The University of Arizona
College of Science
Computer Science
Vansh Taneja,
The Millennium School, Amritsar
SCHOLARSHIP
$22,000
View Letter
San Jose State University
Computer Science
Bachelor of Science
Surleen Randhawa
DAV Public School, Amritsar
View Letter
Penn State University
College of Engineering
Computer Science
Vedant Sharma
Spring Dale Senior School, Amritsar
View Letter
San Diego State University
Computer Science
Bachelor of Science
Avreet Singh
Spring Dale Senior School, Amritsar
View Letter
Georgia State University
College of Arts and Sciences
Master of Science
Dishika Taneja
Bhatnagar International School, New Delhi
Scholarship ($19,038)
View Letter

Binghampton University
Computer Science
Master of Science
Aakarsha
Jaypee institute of information technology, Noida
View Letter
Steven Institute of Technology
Computer Science
Master of Science
Aakarsha
Jaypee institute of information technology, Noida
View Letter
University of Minnesota
Bachelor of Arts
Psychology
Puneet Kaur
Spring Dale Senior School, Amritsar
View Letter
Michigan State University
Bachelor of Arts
Psychology
Puneet Kaur
Spring Dale Senior School, Amritsar
View Letter
California State University, Eastbay
Bachelor of Science
Health Science
Surleen Randhawa
DAV Public School, Amritsar
View Letter
Michigan State University
College of Engineering
Computer Science
Vedant Sharma
Spring Dale Senior School, Amritsar
Scholarship ($18,000)
View Letter
Georgia State University
College of Arts & Sciences
Computer Science
Dishika Taneja
Bhatnagar International School, Delhi
View Letter
Ohio University
College of Business
Finance
Harnoor Kaur
Cambridge International School,Amritsar
Scholarship (41.64%)
View Letter
Purdue University
Engineering and CSc
Computer Science
Rehaan Sharma
DAV Public School, Amritsar
View Letter
Drexel University
College of Engineering
BS in Mechanical Engineering
Ansh Kapoor
G D Goenka Public School, Delhi
Scholarship ($14,400)
View Letter
Year 2021
San Diego State University
Science
Computer Engineering
Sehtej Pal Singh Khehra
View Letter
Sacramento State
Science
Computer Engineering
Sehtej Pal Singh Khehra
View Letter
Kent State University
Science
Computer Engineering Tech
Jubreen Kaur Dhillon
View Letter
University of Arizona
Engineering
-----
Jubreen Kaur Dhillon
View Letter
Year 2020
Drexel University
Science
Computer Science
Mihir Rao
View Letter
The University of Illinois
Science
Computer Science
Mihir Rao
View Letter
The Universtiy of Arizona
Science
Pre-Computer Science
Mihir Rao
View Letter
Georgia Southern Universtiy
Science
Computer Science
Anav Chug
View Letter
View Award Letter
Michigan State Universtiy
Science
Computer Science
Gurveer Singh Sohal
View Letter
University of California San Diego
-----
-----
Rishi Vashisht
View Letter
The Universtiy of IOWA
Science
Computer Science and Engineering
Shubhkaran
View Letter
Purdue University
Engineering
Engineering
Vanshraj Singh Chawla
View Letter
University of Arizona
-----
-----
Vanshraj Singh Chawla
View Letter
California State University Bakersfield
-----
-----
Rishi Vashisht
View Letter