Toronto Metropolitan University
Toronto Metropolitan University (TMU or Toronto Met, legally incorporated as and previously operating as Ryerson University) is a public research university located in Toronto, Ontario, Canada. The university's core campus is situated within the Garden District, although it also operates facilities elsewhere in Toronto. The university operates seven academic divisions/faculties, the Faculty of Arts, the Faculty of Community Services, the Faculty of Engineering and Architectural Science, the Faculty of Science, The Creative School, the Lincoln Alexander School of Law, and the Ted Rogers School of Management. Many of these faculties are further organized into smaller departments and schools. The university also provides continuing education services through the G. Raymond Chang School of Continuing Education.
With 62 bachelor's programs, 55 PhD and master's programs and an MBA programme ranked among the top business programs in Canada based on value for money by Canadian Business (2016), TMU ranks 2nd on National Reputation Ranking by Maclean's magazine (2015). Moreover, DMZ at Toronto Metropolitan University ranked one of the top university incubators in North America (UBI Global, 2015).
Toronto Metropolitan University has over 125 research institutes and labs, more than 20 student clubs and 70+ student groups.
The university holds membership in a number of national and international post-secondary organizations, such as Universities Canada, the Association of Commonwealth Universities, and the International Association of Universities. The university's business school is also accredited by the Association to Advance Collegiate Schools of Business.
Graduate programs are coordinated by the Yeates School of Graduate Studies. Toronto Metropolitan University also jointly administers several academic programs with two other post-secondary institutions based in Greater Toronto, Sheridan College and York University. Continuing education at the university is managed by the G. Raymond Chang School of Continuing Education; which offered over 400 courses as of February 2021.
Ontario is an excellent place to learn, live and work. With nearly 40 per cent of the country's population living in the province, Ontario is home to some of Canada's top universities and colleges. More than half of Canada's new immigrants choose to settle in the province, making its cities diverse and thriving cultural centres. Schools offer international students a world-class education and first-class immersion experience, which is probably why 60 per cent of international students studying in Canada choose to study in Ontario.
The best international educational experiences are academically, socially and culturally enriching.
Ontario has the largest number of universities and post-secondary colleges of any province in Canada.
Education that knows no borders. Students gain a competitive edge because degrees, diplomas and certificates received from Ontario's universities and colleges are recognized worldwide.
Opportunities outside of school. Off-campus work permits are available for full-time university and college students, so you can gain valuable work experience in corporations within Ontario.
The highest employment rate. Ontario university graduates have the highest employment rate in Canada at 92 per cent.
Excellent jobs. Ontario cities offer endless job opportunities. Canada's financial hub is located in Toronto, the capital city is Ottawa and thousands of multinational corporations are located in the province.
Close to U.S. opportunities. Ontario's location close to major U.S. cities such as New York, Boston and Washington allows for personal and career development through internships, student exchanges, post graduate studies and employment opportunities
Safety and security. Ontario is the safest province in Canada, ahead of British Columbia and Quebec.
Welcoming to newcomers. Ontario celebrates diversity. This encourages cultural immersion and exchange, shaping international students into global ambassadors with a greater understanding of the world. Newcomers may work up to three years in Canada and are eligible to apply for permanent residency after one year of employment.
No public exam for entrance into university. Students can apply to university with their Ontario secondary school diploma (OSSD). Students at Columbia International College can apply directly to university based on their final marks in six pre-university courses.
Ontario has a reputation for having high costs of living, but salaries and the minimum wage of $14 are some of the highest in the country. Known for cleanliness, safety, and an abundance of quality public services, it is no wonder that more than half of the immigrants in Canada choose Ontario.
Though Ontario has high taxes and living costs, their high salaries ensure that residents enjoy one of the highest quality of life rankings in the world.
In many ways, Ontario is the center of most activity in Canada and has created a hub of economic, social, and political opportunities. In fact, the Federal government is the single largest employer of Ontarians.
Ontario has a diverse economy, with the main exports being automobile, machinery, and electrical parts. Most big car brand names are manufactured here, including Chrysler, Ford, and Honda.
Step out of the classroom and into the heart of Toronto, a city recently rated seventh most livable in the world by The Economist. Connect with leaders in culture, business, health care or government. Find a local partner for your venture, intern at a downtown company or join a global movement. From here, you can go anywhere
.
Consistently ranking as one of the most multiculturally diverse cities means that Toronto has a lot to offer everyone. With 50% of the population being born outside of Canada, you can find the best-of-the-best of everything from around the world in Toronto. From food to entertainment and more, Toronto is a great place to experience other cultures without having to travel all across the globe.
Being the wealthiest and most modern city in Canada comes with a few perks. The city boasts a high-speed, high-tech infrastructure with consistently fast wi-fi being available in most public spaces. You never need to walk more than a few blocks to find whatever it is you're looking for in Toronto, but with more than 100 totally unique neighborhoods to explore, you might just want to wander.
Safety is one of the biggest concerns for most people when they are deciding where to move to. You would have a really hard time finding a safer city than Toronto anywhere in the world; in fact, there are only three cities that are safer on the planet. That said, Toronto does have its share of neighborhoods that have room to improve, but what big city doesn't. You would have to look hard to find trouble in Toronto, and even then, you might not find it.
In spring, the weather is cool but pleasant, with flowers blooming all across the city. The summers are hot and perfect for hitting the beach, a patio, or just strolling around town. In autumn, Toronto is perhaps its most beautiful as the leaves change colors, and the trees create a living work of art with countless shades of yellow, orange, and red. In contrast, the snowy winters are perfect for winter sports and activities, not to mention that postcard snowy Christmas.
Those who immigrate to Canada enjoy free, world-class healthcare. In fact, some of the best hospitals in the whole world are in Toronto, including Sick Kids Hospital, the best children's cancer hospital on the planet, and Toronto General Hospital, the best hospital in Canada. Best of all, there are countless other medical centers and walk-in clinics located conveniently all around the city.
Not only does Toronto offer world-class healthcare facilities, but the city is also conducive to living a healthy and active lifestyle. With countless parks, trails, and public facilities scattered all over the city, Toronto is walkable, bikeable, and bikeable. For those who prefer to hit the gym, there are excellent options all over the place, with most being well-equipped and inexpensive.
Being the capital of Ontario, Toronto is Canada's largest city and is the countries economic, entertainment, and socio-political center. In other words, business is booming in Toronto. You can't drive downtown in Toronto without seeing a new skyscraper going up, and the cities' commitment to upgrading and modernizing the infrastructure means that Toronto will remain a great place to live and do business for many years to come.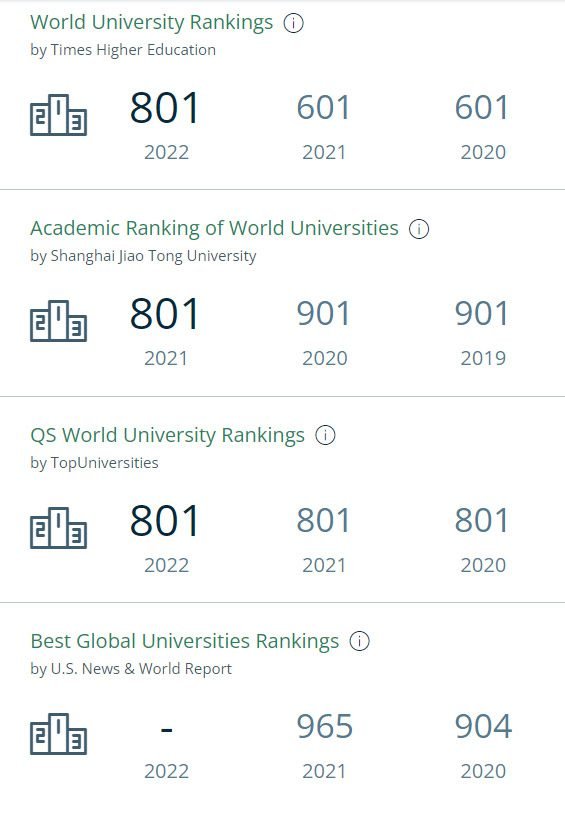 Toronto Metropolitan University Subject Rankings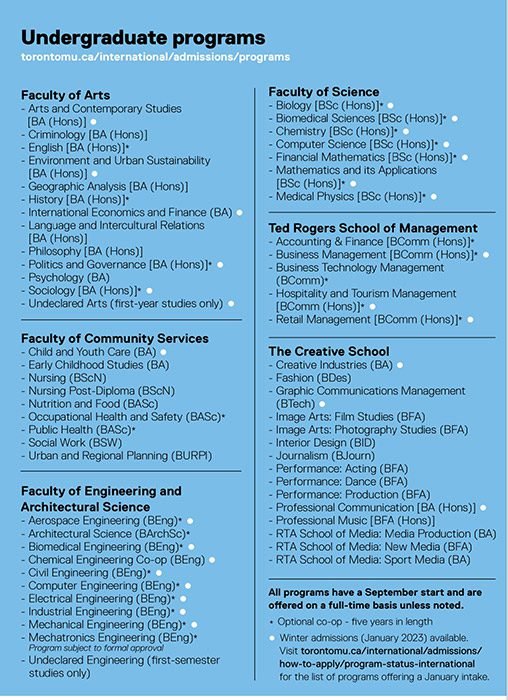 Application start & close intakes
| | | |
| --- | --- | --- |
| Intake | Application Start Date | Application close date |
| Fall 2023 | 01-Oct-22 |   |
| Winter 2024 |   |   |
Scholarships for September admission
The application deadline is February 1, 2023. International students (on a study permit) completing studies at a Canadian secondary school may qualify for a Guaranteed and Renewable Scholarship.
Scholarships for January admission
Colleges our Students have been Admitted to:


















University
Faculty
Program
Student
Letter
Year 2022
The University of Arizona
College of Science
Computer Science
Vansh Taneja,
The Millennium School, Amritsar
SCHOLARSHIP
$22,000
View Letter
San Jose State University
Computer Science
Bachelor of Science
Surleen Randhawa
DAV Public School, Amritsar
View Letter
Penn State University
College of Engineering
Computer Science
Vedant Sharma
Spring Dale Senior School, Amritsar
View Letter
San Diego State University
Computer Science
Bachelor of Science
Avreet Singh
Spring Dale Senior School, Amritsar
View Letter
Georgia State University
College of Arts and Sciences
Master of Science
Dishika Taneja
Bhatnagar International School, New Delhi
Scholarship ($19,038)
View Letter

Binghampton University
Computer Science
Master of Science
Aakarsha
Jaypee institute of information technology, Noida
View Letter
Steven Institute of Technology
Computer Science
Master of Science
Aakarsha
Jaypee institute of information technology, Noida
View Letter
University of Minnesota
Bachelor of Arts
Psychology
Puneet Kaur
Spring Dale Senior School, Amritsar
View Letter
Michigan State University
Bachelor of Arts
Psychology
Puneet Kaur
Spring Dale Senior School, Amritsar
View Letter
California State University, Eastbay
Bachelor of Science
Health Science
Surleen Randhawa
DAV Public School, Amritsar
View Letter
Michigan State University
College of Engineering
Computer Science
Vedant Sharma
Spring Dale Senior School, Amritsar
Scholarship ($18,000)
View Letter
Georgia State University
College of Arts & Sciences
Computer Science
Dishika Taneja
Bhatnagar International School, Delhi
View Letter
Ohio University
College of Business
Finance
Harnoor Kaur
Cambridge International School,Amritsar
Scholarship (41.64%)
View Letter
Purdue University
Engineering and CSc
Computer Science
Rehaan Sharma
DAV Public School, Amritsar
View Letter
Drexel University
College of Engineering
BS in Mechanical Engineering
Ansh Kapoor
G D Goenka Public School, Delhi
Scholarship ($14,400)
View Letter
Year 2021
San Diego State University
Science
Computer Engineering
Sehtej Pal Singh Khehra
View Letter
Sacramento State
Science
Computer Engineering
Sehtej Pal Singh Khehra
View Letter
Kent State University
Science
Computer Engineering Tech
Jubreen Kaur Dhillon
View Letter
University of Arizona
Engineering
-----
Jubreen Kaur Dhillon
View Letter
Year 2020
Drexel University
Science
Computer Science
Mihir Rao
View Letter
The University of Illinois
Science
Computer Science
Mihir Rao
View Letter
The Universtiy of Arizona
Science
Pre-Computer Science
Mihir Rao
View Letter
Georgia Southern Universtiy
Science
Computer Science
Anav Chug
View Letter
View Award Letter
Michigan State Universtiy
Science
Computer Science
Gurveer Singh Sohal
View Letter
University of California San Diego
-----
-----
Rishi Vashisht
View Letter
The Universtiy of IOWA
Science
Computer Science and Engineering
Shubhkaran
View Letter
Purdue University
Engineering
Engineering
Vanshraj Singh Chawla
View Letter
University of Arizona
-----
-----
Vanshraj Singh Chawla
View Letter
California State University Bakersfield
-----
-----
Rishi Vashisht
View Letter