The University of Arizona
The University of Arizona is a leading destination for international students, ranked in the top 0.5% of colleges and universities worldwide in the annual Center for World University Rankings.
The University of Arizona's research and development expenditures ranked in the top 4% of all U.S. universities and topped the astronomy and astrophysics category.
Each year, Arizona ranks as one of the top states in the United States to host international students.
Arizona is also the 16th most populous state in the U.S., with more than 6 million inhabitants. In having one of the largest economies in the United States, and in the world for that matter, copper is extensively mined in the state and accounts for two-thirds of the nation's output.
Additionally, as an urban, tourist-based city, community, business and personal services, including private health care, hotels and resorts, law firms and repair shops, generate more revenue than any other service sector, and Arizona's hotels and resorts receive significant business from tourism during the winter. These fields constitute the second and third majority of workers in Arizona, according to 2010 U.S. Census Bureau data.
With a cost of living that's 6% lower than the national average and 5% lower than the state average, Tucson is an affordable place to live in Arizona. Housing costs are also 25% lower than the national average with median home prices around $132,200 and median rent prices around $772. But you'll have to act fast if you're planning to buy a home in Tucson, as it's currently a hot seller's market. Since it is one of the more affordable cities in Arizona, it's no wonder why Tucson has grown by nearly 5% in the last decade.
As the home of the University of Arizona, Tucson's collegiate pride runs deep. With just over 45,000 students and 15,000 employees, it's easy to see how Tucson can still feel like a college town even with a total population of 548,073. Plus, the impact of the university is obvious among the local job market to the point that Tucson has even been named a top city for emerging tech. Whether your dream is to work closely with NASA, spend some time in the Poetry Center, or attend medical school, there's a program at the U of A for everyone.
One of the biggest changes for people moving to Tucson is the seasons. In general, the best time to visit Tucson is from November to March, which is when you'll most likely experience heavy traffic from snowbirds and tourists. In the summer, however, you'll get some relief, as this is the off-season. That said, don't expect Tucson's 286 sunny days a year as much during the summer. Monsoon season takes place from mid-June to the end of September and can bring thunderstorms, high winds, and even dust storms—and don't forget about the scorching desert heat and 100-degree days when the storms clear!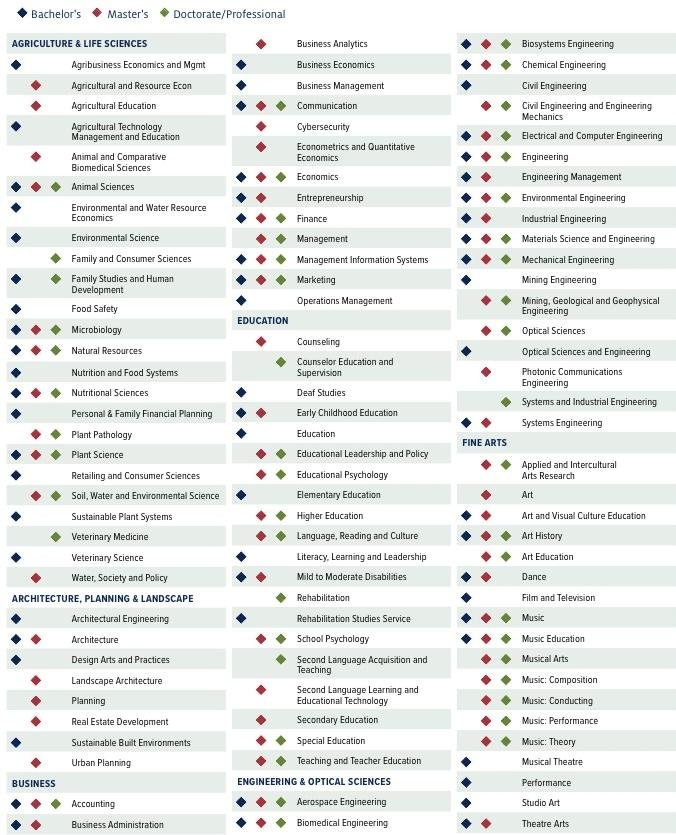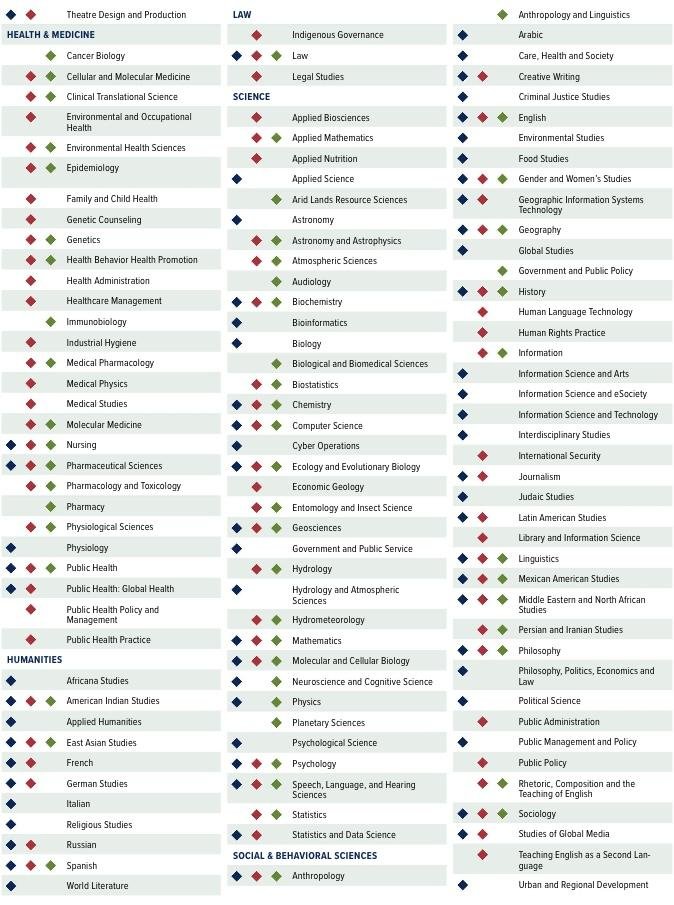 | | | |
| --- | --- | --- |
| Semester | Application Start Date | Application End Date |
|  Spring 2023 | April 1, 2022 | November 1, 2022 |
| Summer 2023 | July 1, 2022 | May 1, 2023 |
| Fall 2023 | July 1, 2022 | May 1, 2023 |
Merit Based scholarship deadline : May 1, 2023
| | |
| --- | --- |
| FAFSA Application Open Date | October 1, 2022 |
| Spring FAFSA Submission Date | November 1, 2022 |
| Fall FAFSA Submission Date | April 1, 2023 |
1. Arizona Tuition Awards
Arizona merit tuition awards for Fall 2023 incoming first-year non-Arizona resident students.
Deadline: Admitted by May 1, 2023
2. National Scholars Tuition Awards
Arizona merit tuition awards for Fall 2023 incoming non-Arizona and Arizona resident National Scholarship Finalists.
Deadline: Admitted by May 1, 2023
3. Dorrance Scholarship Program
Details about the financial and academic support for Arizona's eligible first-generation college students scholarship sponsored by the Dorrance Scholarship Program.
4. Arizona Flinn Scholars
Information about the highly competitive, merit-based scholarship sponsored by the Flinn Foundation.
Colleges our Students have been Admitted to:


















University
Faculty
Program
Student
Letter
Year 2022
The University of Arizona
College of Science
Computer Science
Vansh Taneja,
The Millennium School, Amritsar
SCHOLARSHIP
$22,000
View Letter
San Jose State University
Computer Science
Bachelor of Science
Surleen Randhawa
DAV Public School, Amritsar
View Letter
Penn State University
College of Engineering
Computer Science
Vedant Sharma
Spring Dale Senior School, Amritsar
View Letter
San Diego State University
Computer Science
Bachelor of Science
Avreet Singh
Spring Dale Senior School, Amritsar
View Letter
Georgia State University
College of Arts and Sciences
Master of Science
Dishika Taneja
Bhatnagar International School, New Delhi
Scholarship ($19,038)
View Letter

Binghampton University
Computer Science
Master of Science
Aakarsha
Jaypee institute of information technology, Noida
View Letter
Steven Institute of Technology
Computer Science
Master of Science
Aakarsha
Jaypee institute of information technology, Noida
View Letter
University of Minnesota
Bachelor of Arts
Psychology
Puneet Kaur
Spring Dale Senior School, Amritsar
View Letter
Michigan State University
Bachelor of Arts
Psychology
Puneet Kaur
Spring Dale Senior School, Amritsar
View Letter
California State University, Eastbay
Bachelor of Science
Health Science
Surleen Randhawa
DAV Public School, Amritsar
View Letter
Michigan State University
College of Engineering
Computer Science
Vedant Sharma
Spring Dale Senior School, Amritsar
Scholarship ($18,000)
View Letter
Georgia State University
College of Arts & Sciences
Computer Science
Dishika Taneja
Bhatnagar International School, Delhi
View Letter
Ohio University
College of Business
Finance
Harnoor Kaur
Cambridge International School,Amritsar
Scholarship (41.64%)
View Letter
Purdue University
Engineering and CSc
Computer Science
Rehaan Sharma
DAV Public School, Amritsar
View Letter
Drexel University
College of Engineering
BS in Mechanical Engineering
Ansh Kapoor
G D Goenka Public School, Delhi
Scholarship ($14,400)
View Letter
Year 2021
San Diego State University
Science
Computer Engineering
Sehtej Pal Singh Khehra
View Letter
Sacramento State
Science
Computer Engineering
Sehtej Pal Singh Khehra
View Letter
Kent State University
Science
Computer Engineering Tech
Jubreen Kaur Dhillon
View Letter
University of Arizona
Engineering
-----
Jubreen Kaur Dhillon
View Letter
Year 2020
Drexel University
Science
Computer Science
Mihir Rao
View Letter
The University of Illinois
Science
Computer Science
Mihir Rao
View Letter
The Universtiy of Arizona
Science
Pre-Computer Science
Mihir Rao
View Letter
Georgia Southern Universtiy
Science
Computer Science
Anav Chug
View Letter
View Award Letter
Michigan State Universtiy
Science
Computer Science
Gurveer Singh Sohal
View Letter
University of California San Diego
-----
-----
Rishi Vashisht
View Letter
The Universtiy of IOWA
Science
Computer Science and Engineering
Shubhkaran
View Letter
Purdue University
Engineering
Engineering
Vanshraj Singh Chawla
View Letter
University of Arizona
-----
-----
Vanshraj Singh Chawla
View Letter
California State University Bakersfield
-----
-----
Rishi Vashisht
View Letter